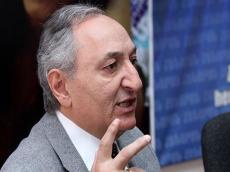 By Azernews
By Rashid Shirinov
Years of economic crisis and a lack of government support, as well as state-level corruption have made it hard for entrepreneurs to view Armenia as investment worth country.
Entrepreneurs flee the country as a combination of corrupt bureaucracy, impunity of law-enforcement agencies and economic failures of the government is scaring away the very businessmen.
Armenian MP from the Tsarukyan faction and economist Vardan Bostanjyan noted that the government failure to fulfill its promises, including those over investment.
Speaking about pre-election promises about huge investments in Armenia, Bostanjyan said that he does not know what part of the promise has become a reality.
"I do not know what part of the investment promise was fulfilled, but one thing I know for sure – investment is made where there is a guarantee for the safety of money, development and distribution. Armenia simply has no conditions for that," Bostanjyan stressed.
Few people dare to invest in the impoverished and corrupt Armenia. Even the richest foreigners from affluent countries hesitate to invest their money in a country known for extreme corruption and many other drawbacks.
The Armenian businessmen themselves do not invest money in the country's business spheres because they are afraid of losing the funds. They understand unreasonableness of investing in the Armenian economy which is heading towards the default.
Both foreign investment in the Armenian economy and net inflow of private transfers into the country have been sharply declining in recent years. The Armenian experts and economists have long noted that it is necessary to ensure at least 7-8 percent of GDP growth to avert the impending default. However, the realities show that the country's government couldn't even reach the promised 2 percent of growth, as it stood at only 0.2 percent in 2016.
Moreover, for many years the Armenian government has been speaking about its programs on the development of the country, particularly the cities of Sevan, Gyumri and Jermuk. However, time goes by, but no positive change can be seen in neither in the country's economy nor the social sphere.
Commenting on the programs on the development of the cities, Bostanjyan noted that these talks have existed for 25 years, but no real action is being taken.
"In general, these discussions and talks are empty. We see only talks, but you should speak only when something works out," he said.
Meanwhile, one of the rare developing sectors of the Armenian economy is the shadow economy. Small and medium businesses in the country are being eradicated by high taxes or bribery. Industrial enterprises have long ago turned into the victims of corruption, while the survivor ones are in the hands of oligarchs.