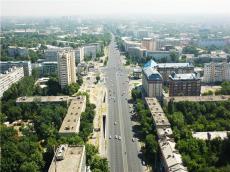 By  Trend
There is a clear shift in Uzbekistan's attitude towards the construction of Tajikistan's Rogun hydropower plant since the change of the country's leadership, a Senior Fellow at Central Asia-Caucasus Institute Mamuka Tsereteli told Trend.
"Uzbekistan is no longer publicly resisting the project, and several statements of Uzbek officials indicate that they are willing to deal with the issue within the internationally accepted rules," the expert said.
He noted that generally there is a positive change towards more openness of Uzbekistan towards regional cooperation.
"Uzbek President Shavkat Mirziyoyev has indicated, that improvement of relationships with neighbors is a priority and his Foreign Minister Abdulaziz Kamilov confirmed this priority on multiple occasions," Tsereteli said.
He pointed out that Kamilov's recent statement on Rogun dam is the best representation of the evolution of the country's official position.
In his recent statement Kamilov stressed that during the construction of such plants, the interests of both upstream and downstream countries should be considered, according to the expert.
At the same time, Uzbek Foreign Minister didn't say the construction should be stopped, but noted that the guarantees under the conventions signed earlier, should be complied with, Tsereteli added.
The Rogun hydropower plant construction project was developed during the Soviet era. Construction of the plant was initiated in 1976, but stopped after the collapse of the Soviet Union.