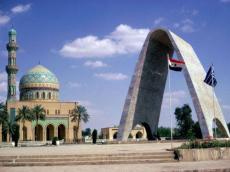 By Azernews
By Kamila Aliyeva
The ISIS militants have been effectively defeated and the country was saved from terror. 
The Islamic State (IS, ISIS, ISIL, Daesh) terrorist group is no longer on Iraq's territory, Fadhil Awad Jebur AL-Shuwaili, charge d'affaires of Iraq to Azerbaijan, said on July 14.
However, there are still small terrorist units in the country, which will be eliminated soon, he told a briefing in Baku held on the occasion of liberation of Mosul from IS.
"We put an end to the terror in our country," the diplomat said, adding this happened thanks to the unity of the Iraqi people.
"Certain countries helped the Iraqis in this fight, so this is not only our victory but their victory too," he said.
The further steps will be aimed at bringing back refugees and restoring Mosul, said Fadhil Awad Jebur AL-Shuwaili.
"The IS terrorist group committed indescribable atrocities against the Iraqi people – it burned women, in particular those of Kurdish origin, Shiites, and involved children in combat operations," he said. "Civilians were used as human shields, and religious shrines, mosques and monuments were destroyed."
The campaign to expel the IS militants from Mosul, the second largest city in Iraq and the main bulwark of terrorists, began in October last year. It involves the army special forces, the Federal Police, the rapid reaction force and the Iraqi Armed Forces. Air support is provided by the aviation of the international counter-terrorism coalition led by the United States and the government air forces of the republic.
On July 10, Prime Minister of Iraq Haider al-Abadi officially announced victory over the IS in Mosul. The city has been under the IS control since June 2014. The victory marks the beginning of a long work on rebuilding the city.
Abadi's announcement of victory over ISIS was met with international praise from a number of countries still actively battling the militants, including the U.S., Russia, Iran and Syria, where the remaining half of ISIS's self-proclaimed caliphate lies.