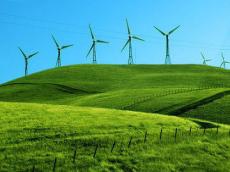 By Azernews
By Kamila Aliyeva
Kazakhstan, an energy-rich Central Asian nation which strives to increase its energy generation from renewable sources, will take additional measures to achieve its goal.
The country intends to attract the major world companies to the development of renewable energy sources.
This was stated by Kazakh Energy Minister Kanat Bozumbayev at a conference on energy transformation, Kazinform reported.
"Over the past few years, a pricing system for energy from renewable sources called fixed tariffs has been operating in Kazakhstan," he said.
The minister explained that the Government has adopted a fixed cost of buying electricity from renewable sources.
"For example, solar energy - the cost of kilowatt-hour was 34 tenge, which is more than 10 U.S. cents. We believe that this is expensive. It is clear that the cost of this energy is formed on the basis of the need to return investments, depreciation of equipment, which is produced in small amounts in Kazakhstan. Add the cost of those funds that are involved for such projects," the minister said.
He further noted that during the period of only a year and a half Chile, Mexico, the United Arab Emirates, Saudi Arabia and a number of other countries have held auctions.
"Auctions show that as a result of trades on a decline - say, such auctions are attended by the largest companies - the average price for electricity amounts to about two and a half cents. That is, two years ago the price was 4-5 cents, today it is 2.5 cents, let's say at the last auction in Abu Dhabi. Similarly, Kazakhstan follows the same path. Two days ago, the President signed amendments to the laws "On Electric Power Industry" and "On Support of Renewable Energy Sources", which provides for the introduction of the auction system," Bozumbayev added.
The Minister also said that the largest companies of the world - Aqua Power, Shell, Eni-Agip, General Electric and companies from China - will be involved in the development of RES in Kazakhstan.
Kazakhstan plans generating 50 percent of its electricity from renewable and alternative energy sources according to President Nazarbayev's ambitious 2050 strategy. This strategy is a part of the country's comprehensive initiative to transfer itself from one of the world's major hydrocarbon energy producers to a model green economy.
Kazakhstan's Green Bridge Initiative aims to provide a stable and long-term basis for green investment, transfer of new technologies and innovations in order to create sustainable economy and new and long-term green jobs.
In addition to green energy, Kazakhstan's transition also focuses on water source conservation, waste management and reduction of carbon emissions.
Renewable energy production volumes will grow three times compared to current indicators, according to Kazakhstan's Ministry of Energy. In three years, more than 100 alternative energy facilities will operate in the country compared to the current 50. The facilities will include 23 wind energy plants, 17 solar power stations and 13 hydroelectric power stations, as well as several plants producing biogas, an alternative energy source.
Special focus is currently being placed on wind power facilities, which is largely due to the unique natural conditions of the country's regions. For example, the average annual wind speed reaches nine meters per second in the capital and Fort-Shevchenko, on the territory of the Dzungarian Gate and Shelek Corridor.
The areas, which measure approximately 50,000 square kilometers or 2 percent of the country's total area, can produce a trillion kilowatt-hours per year, which significantly exceeds the nation's energy needs.