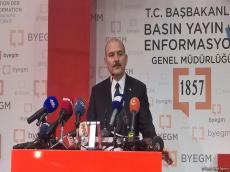 By Azernews
By Amina Nazarli
Weakening and destabilizing Turkey were the main aims of the military coup attempt of July 2016.
Turkish Interior Minister Suleyman Soylu made the remark while talking to reporters in Ankara on July 11, Trend reported.
The people of Turkey prevented the military coup attempt by proving their unity with the government, Soylu said.
The military coup attempt was a test for Turkish people, Soylu said, stressing that the people of Turkey supported the democratic system with their blood.
The events on the occasion of the anniversary of the military coup attempt in Turkey began in Ankara on July 11. The political leaders of the country take part in the events.
Eighty one provinces of Turkey will host events dedicated to this date from July 11 to 16, the main of which will be held in Ankara and Istanbul, where monuments to the victims of rebels will be opened. Special sessions will be held in the country's parliament.
The deadly coup attempt in July 2016 was the bloodiest coup attempt in Turkey's political history. On July 15 2016, a section of the Turkish military launched a coordinated operation in several major cities to topple the government and unseat the president.
Soldiers and tanks took to the streets and a number of explosions rang out in Ankara and Istanbul. Fighter jets dropped bombs on the parliament, while the chairman of the Joint Chiefs of Staff, Hulusi Akar, was kidnapped.
As news of the coup attempt spread via social media and TV, thousands of ordinary citizens gathered in streets and squares around Ankara and Istanbul to oppose the coup.
The crowds resisted tank fire and air bombardments and, with the help of loyalist soldiers and police forces, they together with the government defeated the coup attempt in early hours of July 16.
Turkey's government has repeatedly said the deadly plot, which martyred more than 240 people and injured more than 2,000 others, was organized by followers of U.S.-based preacher Fetullah Gulen.