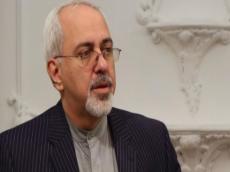 By Azernews
By Kamila Aliyeva
The United States will sooner or later have to recognize the need to comply with the terms of the agreement on the Iranian nuclear program, Foreign Minister Mohammad Javad Zarif said at a joint news conference with Norway's Foreign Minister Børge Brande in Oslo, TASS reported.
"The actions of the new Washington administration do not seem promising yet, but we are convinced that in the end they will recognize the need to comply with the terms of the nuke deal. We are also confident that the international community, as it has already done, will clearly indicate to them [the U.S.] that the nuclear deal should be regarded as a multilateral agreement, not a bilateral one, between the United States and Iran," Zarif said.
Touching upon the situation in Syria, the Iranian minister said that the Astana process is currently the only effective format for peace talks.
"The Astana process is still the only one that brings results. This must be taken into account, due to the tragic situation in the region, where conflicts and bloodshed continue," the minister said adding that "we are confident that Iran, Russia and Turkey should continue their work in order to strengthen the Astana process by contributing to international efforts aimed at bringing peace and stability to Syria and putting all parties at the negotiating table."
Thanks to the Astana process, much has already been done to stabilize and improve the situation in Syria, according to Zarif.
These results should be consolidated by creating conditions for the work of observers, humanitarian assistance, as well as participating in the political process, Zarif added.
Brande, in turn, noted that the main topic of the talks held on June 12 with the Iranian Foreign Minister was the situation in the Middle East region, including Syria, Iraq and the Gulf countries.
Russia, Turkey and Iran are the main sponsors of the talks on Syria in Kazakhstan's capital.
The civil war in Syria between government and opposition with various terrorist groups involved, including Daesh (also known as ISIS or ISIL), began back in March 2011.
Syrian President Bashar Assad managed to turn the tide of war in his favor after Russia started an air campaign in September 2015, while Iran is an uncompromising supporter of the Syrian leader.
According to a report by the Syrian Center for Policy Research, the conflict has claimed the lives of over 470,000 people, injured 1.9 million others, and displaced nearly half of the country's pre-war population of about 23 million within or beyond its borders.