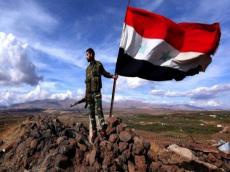 By Azernews
By Sara Israfilbayova
Regulating the Syrian crisis will be at a table of talks between the Russian and Turkish leaders in Ankara. 
The military of Russia and Turkey will discuss the borders of de-escalation in Syria at a meeting in Ankara, Russian President Vladimir Putin said at a news conference on the results of his visit to China, RIA Novosti reported.
"Firstly, we will discuss, of course, constantly with the Syrian side on the specific boundaries of the de-escalation territories and secondly, the elements of control will be discussed: how, where and what will control," Putin told.
The agreement on the creation of de-escalation zones signed by Iran, Russia and Turkey in the Kazakh capital, Astana, is the latest in a series of ceasefire proposals aimed at ending Syria's war, now in its seventh year.
The document envisages the cessation of hostilities between the sides, conditions for returning refugees, the restoration of destroyed urban infrastructure and the access of humanitarian organizations. Moreover, the checkpoints to control the movement of civilians and the ceasefire regime will be created along the de-escalation zone borders.
The memorandum specifies that a six-month renewable truce begins on May 6 and that the government's air force will halt all flights over the de-escalation areas.
The four zones cover areas in the provinces of Damascus, Idlib, Latakia, Aleppo, Homs, Hama, Deraa and Quneitra.
A deal on the so-called de-escalation zones in Syria has been received with mixed reactions by residents of the affected areas.
While some were optimistic that it would benefit civilians, others expressed doubt over its sustainability.
High Representative of the EU for Foreign Affairs and Security Policy Federica Mogherini said that the Syrians, as a first step, need to implement the decisions taken on the cessation of hostilities and the de-escalation of violence, as well as to guarantee that humanitarian aid reaches all people in need and this what the EU is focused on at the moment and especially the political track.
Armed conflict continues in Syria since March 2011. Government troops are confronted by militants of different armed rebel groups. Russia has begun airstrikes on terrorist facilities in Syria since 30 September 2015. The Russian military involvement follows an official request from President Bashar Assad to President Vladimir Putin.