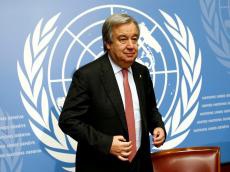 By Azernews
By Kamila Aliyeva
Chinese initiative "One belt, one way" is aimed at achieving peace, and that's why it is closely linked with UN goals and principles, the UN Secretary General Antonio Guterres said, RIA Novosti reported.
"This project is set for uniting people, it is being created not only for development but also for the sake of achieving peace. This is why the initiative is so closely linked to the UN program of action aimed at achieving stable development and lasting peace," Guterres said in an interview with CGTN channel.
Despite the advantages of the Chinese initiative, opinions about it differ, some politicians and experts say that Beijing is trying to strengthen its geopolitical influence through "One Belt, One Way" project.
Asked about his personal view on China's goals, the UN Secretary General responded that the advantage of this project is that it is a win-win for everyone, both China and others.
"To date, China is the driving force of the world economy, and there is mutual benefit. If China helps some country develop its economy, Beijing will also benefit, this is a win-win situation for both sides," he said.
He added that, undoubtedly, all these projects are considered as a means of promoting Chinese investment, trade and welfare, this is true.
"But this is just a win-win situation, when you try to help others get rich and at the same time you are getting richer. If everyone does the same, this world will become much better," Guterres said.
A high-level forum on international cooperation within the framework of the "One belt, one way" strategy was held in Beijing on May 14-15.  The event is attended by presidents and premiers of 29 states.
The multibillion-dollar Silk Road project was initiated by President Xi Jinping in 2013 with an aim to connect China with Europe and strengthen cooperation between Asia and Africa.
The strategy includes two key areas of development such as economic belt of the Silk Road and the Sea Silk Road. It is about creating a trade corridor for direct supplies of goods from East to West on preferential terms.