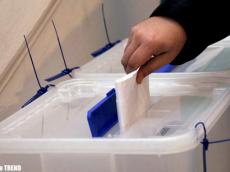 By Azernews
By Kamila Aliyeva
A survey conducted by the Information Agency of the Islamic Republic (IRNA) on May 7-8 revealed that about 66.7 percent of respondents will participate in the presidential elections on May 19 in Iran.
The survey was conducted randomly among 6,089 people from 31 provinces. As many as 16.2 percent of the respondents said they had not yet decided whether to vote or not.
Comparing previous survey conducted on May 1-2, new polls show that, the number of people who decided to take part in the voting process increased by 3 percent.
Answering the question about their political inclinations, 27.8 percent of respondents said that their views are closer to reformists, 23.3 percent - to conservatives, while 14 percent said they prefer moderate ones.
About 20.7 percent of people said that their views are not close to any of the existing political parties, and 14.2 percent said they do not have information about political groups in the country.
Moreover, 63.4 percent of respondents said that they had already chosen their candidate, and 36.6 percent said that they are still waiting and want to know about the plans of candidates in the presidential campaign in order to decide on their final choice.
Ebrahim Raeisi, custodian of Imam Reza (AS) holy shrine, Vice-President Eshaq Jahangiri, Tehran Mayor Mohammad Baqer Qalibaf, former minister of culture and Islamic guidance Mostafa Mirsalim and former minister of physical education Mostafa Hashemi Taba, as well as President Hassan Rouhani are the six candidates to run for presidency in the forthcoming presidential elections.
The voting date for the 12th presidential and 5th city and council elections is May 19. 
To win, the candidate must score more than 50 percent of the vote. If none of the applicants succeeds in enlisting the support of such a number of voters, a second round of voting will be held, in which two leaders of the first round will participate.