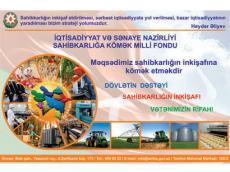 By Azernews
By Sara Israfilbayova
The National Fund for Entrepreneurship Support (NFES) under the Economy Ministry of Azerbaijan started accepting investment projects on priority development areas of the Astara region.
Following the business forum in Astara, the NFES found it expedient to start accepting entrepreneurs' proposals for financing investment projects on creation of a specialized "green" market, livestock breeding farms, tea growing, gardening, beekeeping (including honey production in an industrial way), greenhouse facilities and fruit processing enterprises.
Entrepreneurs can submit their projects to the authorized credit institutions of the Fund.  Upon the request of entrepreneurs, small projects can be fully financed through concessional loans.
About 150 million manats ($88 million) will be issued for granting preferential loans to entrepreneurs in 2017.
The Fund, established in 1992, issues loans to entrepreneurs through authorized banks and non-bank lenders.
Main objectives of the Fund are to develop entrepreneurship in the Republic of Azerbaijan and participate in activities to increase the activity of business activities of the population and provide them with financial assistance.
Allocation of funds by NFES is aimed at the mitigating of the impact of global economic crisis to the national economy and minimization of its dependence on the oil sector. The country takes steps in its bid to diversify the national economy and provide for the development of entrepreneurship in the country.