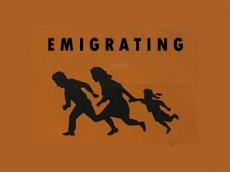 By Azernews
By Rashid Shirinov
Today, the outflow of population is one of the major threats to Armenia as a state.
The widespread migration from the country is the result of total corruption and outrage of the Armenian authorities, who created unbearable conditions for normal human life. Therefore, it is not surprising that the population is steadily declining in Armenia. Residents of the country are fleeing abroad in search of a decent life.
The figures of the National Statistical Service of Armenia published on April 1 show that the permanent population of the country decreased by 12,900 people since early 2017as compared to the last year, and by 4,600 compared to the beginning of 2017. Moreover, the birth rate for the first 3 months of this year has decreased by 6.5 percent as compared to the data of 2016, while the mortality rate has grown by 3.8 percent.
In addition to these demographic problems, the family institution is losing grounds in the country. The data of the country's National Statistical Service shows that in less than a year the number of marriages in Armenia has decreased from 3,826 to 3,544, and the number of divorces has vice versa increased – from 851 to 972 cases.
However, the most painful fact for the Armenian authorities is that the inhabitants of the country keep refusing from its citizenship. In the first quarter of 2017, as many as 1,190 citizens appealed to the Passport and Visa Office of the Armenian police for the renunciation of their citizenship.
Armenian media note, citing the Russian Interior Ministry, that 22,264 Armenians obtained the Russian citizenship in 2016. Such a large number of Armenians who decided to have Russian citizenship suggests that they are unhappy with the current doleful situation in Armenia. It is no coincidence that the Armenian authorities have decided to legally deny the right to vote in elections for Armenians, who emigrated abroad.
A voluntary decision to reject the national passport suggests that the individual already has no high feelings for the country. In the case of Armenia, it is clear that the country's government is to blame for this decision of former Armenian citizens.