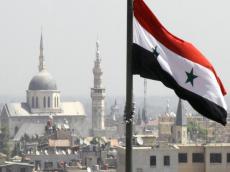 By Azernews
By Kamila Aliyeva
Damascus seeks to adhere to the memorandum on de-escalation zones in Syria, but is ready for a resolute response should armed groups violate it, Syrian Foreign Minister Walid Muallem said on May 8.
Representatives of the countries-guarantors of the truce in Syria (Russia, Iran, Turkey) signed on May 4 a memorandum on the creation of four zones of de-escalation in Syria, which include the province of Idlib and seven other regions. Any clashes between the government forces and opposition armed groups must stop within the zones According to the memorandum,.
The memorandum on de-escalation zones took effect on May 6.
"We shall implement [the memorandum], but if there will be a violation by any group, the response will be resolute," Muallem told a press conference, RIA Novosti reported.
He added that it was "premature to speak of the success of the implementation of the memorandum."
Muallem ruled out the participation of armed forces under the auspices of the United Nations in the implementation of the safe zone memorandum.
The agreement between Moscow, Tehran and Ankara presumes the cessation of airstrikes and combat actions between the Syrian Army and militants who have already joined or will join the ceasefire regime, according to Chief of the Russian General Staff's Main Operational Directorate Col. Gen. Sergei Rudskoy.
The deal was discussed earlier during talks between Russian President Vladimir Putin and his Turkish counterpart Recep Tayyip Erdogan in Sochi.
The nationwide Syrian ceasefire regime was introduced on December 30, 2016, with Russia, Iran and Turkey serving as its guarantors. The UN Security Council passed a resolution in December supporting the effort.
Syria has been gripped by civil war since March 2011 with various terrorist groups, including Daesh (also known as ISIS or ISIL), controlling parts of it.
According to a report by the Syrian Center for Policy Research, the conflict has claimed the lives of over 470,000 people, injured 1.9 million others, and displaced nearly half of the country's pre-war population of about 23 million within or beyond its borders.