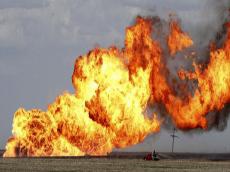 By Azernews
By Kamila Aliyeva
A promising natural gas field was discovered in the Uzun-Ada area in Turkmenistan's Balkan Region, the Turkmen government reported.
Experts of the Turkmenneft state concern, after drilling an ultra-deep well with a projected depth of 7,150 meters, received a commercial inflow of natural gas within the interval of 6,689-6,695 meters.
"According to preliminary estimates, the well productivity is 500,000 cubic meters of natural gas and 150 tons of gas condensate per day," reads the message.
Turkmenistan has great opportunities for future which lie in exploration and development of oil and natural gas fields, especially Galkynysh, Osman, Minara, Tagtabazar-I, offshore blocks, and the Central Karakum group of fields and construction of gas treatment and processing units at the above-mentioned fields.
According to the data collected by UK's Gaffney, Cline & Associates, reserves of the Galkynysh, together with reserves of the Yashlar field, are estimated at 26.2 trillion cubic meters of gas and reaches 27.4 trillion cubic meters – together with reserves of the reopened Garakel field.
Turkmenistan, which is rich with oil and gas resources, opened about two hundred oil and gas fields so far. Potential hydrocarbon resources of the country amount to 71.2 billion tons of oil equivalent, of which 53 billion falls on the land, and 18.2 billion tons - on marine areas.
Currently, Turkmenistan delivers gas to Iran and China.