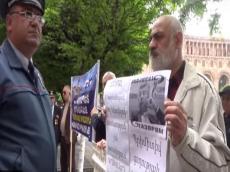 By Azernews
By Rashid Shirinov
Life in Armenia is extremely hard for ordinary people, who are fed up with social injustices and see protests as the only way to be heard of.
Yerevan saw another protest action on May 4, when an Armenian engineer and entrepreneur Vardges Gaspari protested against the government condemning policy of country's Prime Minister Karen Karapetyan.
Gaspari, talking to reporters said that the head of the Zvartnots customs doesn't allow his company to export ordinary goods, such as wire connecting nodes, devices to measure electric voltage, and thermostats, to Georgia. The head of customs requires Gaspari to provide a document stating that the production has no military purpose. The entrepreneur called this a primitive theft.
Gaspari told reporters that the customs head indirectly demanded a bribe from him.
 "These are usual items produced in millions around the world. Even the National Security Service wrote me that to import a TV remote there should be permission because it is a remote control device," Gaspari said, calling the Prime Minister Karapetyan "the godfather of this primitive stealing."
Then, two police officers approached Gaspari and demanded him to remove the poster. Receiving no response, they attacked the protester and forcibly took away the poster.
The Armenian authorities are well aware of the doleful situation of the Armenian economy, but instead of helping local entrepreneurs, they do their utmost not to let business people run their business. The explanation for this is the fact that the Armenian economy is utterly monopolized and ruled by the country's officials, who don't want to share the market with someone else.