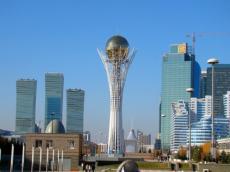 By Azernews
By Kamila Aliyeva
The fourth round of Syria peace talks sponsored by Russia, Turkey and Iran continue in Astana.
The countries acting as guarantors of the Syrian ceasefire have reached a consensus on some memorandum provisions and the work on the document is nearing completion, TASS reported referring to a source close to the talks.
The sides plan to sign a document later in the day. The Syrian government supported the decision to set up zones to ease tensions and reiterated its commitment to the ceasefire.
The next meeting on Syria in the Astana format can be held in a month's time, in early June, according to the source.
Al-Jazeera TV channel said that four 'safe zones' or 'de-escalation zones' will be established between Idlib and Aleppo, near Hama and Homs and east of Damascus and on the outskirts of Daraa in south Syria.
In the past two months, government forces and armed opposition groups have been engaged in fighting in those areas.
Meanwhile, Russian Foreign Minister Sergey Lavrov said that Moscow expects the talks on Syria to be successful.
"We look forward to the success of the next round of talks in the capital of Kazakhstan, which is currently underway in Astana, first of all, in terms of consolidating the ceasefire regime, agreeing on a mechanism for responding to violations and carrying out demining activities," he said after talks with Foreign Minister of Finland Timo Soini..
The nationwide Syrian ceasefire regime was introduced on December 30, 2016, with Russia, Iran and Turkey serving as its guarantors. The UN Security Council passed a resolution in December supporting the effort.
Syria has been gripped by civil war since March 2011 with various terrorist groups, including Daesh (also known as ISIS or ISIL), controlling parts of it.
According to a report by the Syrian Center for Policy Research, the conflict has claimed the lives of over 470,000 people, injured 1.9 million others, and displaced nearly half of the country's pre-war population of about 23 million within or beyond its borders.