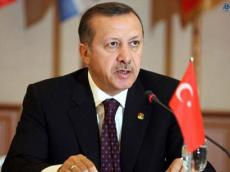 By Azernews
By Kamila Aliyeva
Turkish President Recep Tayyip Erdogan considers that Russia should lift trade sanctions against Turkey in order to completely normalize relations, TASS reported.
Erdogan stated this in Ankara ahead of his flight to Sochi, where he will meet with Russian President Vladimir Putin.
"If we want to achieve a trade turnover of $100 billion, then we need to urgently and completely remove all these restrictions. We want this to happen. We are making great efforts to resolve existing issues and to restore relations to the previous level," he said.
Erdogan named the sanctions imposed by Russia as "the biggest obstacle" to the effective development of the trade relations.
"Earlier, our ministers discussed the lifting of the sanctions, I will discuss this with Mr. Putin. The removal of restrictions is the most important condition for reaching $100 billion of trade turnover," he added.
Erdogan noted that Turkey "seeks to balance trade and economic cooperation with the Russian Federation" due to the fact that the import-export balance is still in favor of Russia.
He also mentioned that for effective development of the relations "it is necessary to remove visa restrictions."
Russia had imposed a number of economic sanctions, including the suspension of visa-free travel, on Turkey at the beginning of last year in response to the downing of a Russian Su-24 bomber.
The Moscow-Ankara relations began to improve after Turkish President Recep Tayyip Erdogan apologized over the jet incident. Russia lifted the flight ban, but food embargo on Turkey's food and agricultural products remains partly in place.
Turkey from March 15 suspended the issuance of licenses for duty-free supplies of wheat, corn and sunflower meal from Russia. 
Representatives of the Turkish business said that such measures were taken in connection with the fact that Russia has not completely removed the ban on the supply of Turkish products, in particular, tomatoes.