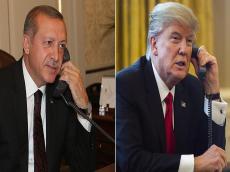 By  Trend
U.S. President Donald Trump called Turkish counterpart Recep Tayyip Erdogan to congratulate him for 'Yes' win in referendum, Anadolu reported.
According to preliminary data, 51.4 percent of votes in a referendum held April 16 were in favor of amendments to the Turkish constitution.
The amendments provide for the number of seats in the Turkish Parliament to be increased from 550 to 600.
It is also suggested that Turkish citizens can run for the MP seats from the age of 18. Currently, the lowest age limit is 25.
The amendments also provide for holding parliamentary elections every 5 years. Currently, the parliamentary elections are held every 4 years.
A Turkish citizen no younger than 40 can become a president, according to the amendments.