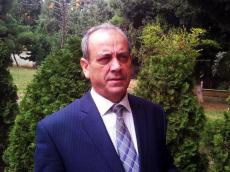 By Azernews
By Rashid Shirinov
The absurd statements of Armenian power structures' officials about 'military power' and 'new weapons' of the country, are misleading the public, said military expert Kamal Huseynov.
Retired Colonel Huseynov announced about this while commenting on the statement of Deputy Chief of the Armenian Air Defense Forces, Colonel Arthur Poghosyan, who said that Armenia has purchased man-portable air-defense systems Verba.
Poghosyan's statement that the acquisition of this weapon will change the balance of power in the region in favor of Yerevan is absurd, said Huseynov.
"Any international expert who directly studies the balance of power between the two countries and analyzes the situation in detail unequivocally confirms multiple superiority of Azerbaijan over Armenia from a military point of view," the expert said.
Huseynov noted that unlike Armenia, the financial capacity of Azerbaijan allows not only to purchase a sufficient number of modern weapons and military equipment for the army, but also allows to develop the country's military-industrial complex.
Indeed, Azerbaijan, which is in war with neighboring Armenia over the latter's groundless territorial claims during more than 20 years, keeps in focus the armament. The country works closely with leading companies and firms in various fields of military industry, and at the same time creates its own progressive armament at military factories.
Azerbaijan provides the national Army with sufficient military budget every year. Defense spending of Azerbaijan determined in the state budget for 2017 made up 2.64 billion manats ($1.59 billion), which exceeds the spending for 2016.
Meanwhile, Russian expert on international conflicts Evgeniy Mikhailov said that Azerbaijan purchases weapons that are way stronger than Armenia's.
Mikhailov expects no dramatic change in the balance of armaments with the supply of the Verba systems to the Armenian Armed Forces.
The expert added that Armenians will not be able to use these air-defense systems in Nagorno-Karabakh.
"The use of Verba in Nagorno-Karabakh will be illegal. The systems may be used for the defense of Armenia, but the use in Karabakh would be on the conscience of the aggressor," he told Day.Az.
Azerbaijan and Armenia for over two decades have been locked in conflict, which emerged over Armenian territorial claims to Azerbaijan. Since the 1990s war, Armenian armed forces have occupied over 20 percent of Azerbaijan's internationally recognized territory, including Nagorno-Karabakh and seven adjacent regions. The UN Security Council has adopted four resolutions on Armenian withdrawal from the occupied lands of Azerbaijan, but they have not been enforced to this day.
While the OSCE Minsk Group acted as the only mediator in resolution of the conflict, the occupation of the territory of the sovereign State with its internationally recognized boundaries has been left out of due attention of the international community for years.