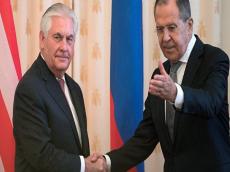 By Azernews
By Kamilla Aliyeva
The U.S. and Russia, trying to reduce rapidly rising tensions amid situation in Syria, have clashed over a range of issues, especially the future of Syrian President Bashar al-Assad, during a daylong visit by Secretary of State Rex Tillerson to Moscow on April 12 which included the talks with Russian Foreign Minister Sergey Lavrov and Russian President Vladimir Putin.
The meeting, during which a number of topical issues like Syria, Ukraine, Korea and issues of bilateral relations were discussed, lasted for about five hours.
Before the beginning of the meeting, Lavrov stressed that Moscow had accumulated a lot of questions on the recent statements of the United States, which relate to bilateral relations and international problems.
Earlier both countries expressed their readiness to cooperate with each other on a constructive and equal basis.
Lavrov also called Tillerson's visit "timely", as it provides an opportunity "to frankly and honestly try to clarify the prospects for cooperation on all issues, primarily on the formation of a broad anti-terrorist front."
The U.S. Secretary of State, for his part, expressed the hope that this meeting with Lavrov would help Moscow and Washington to establish an open dialogue and would "explain and express those points" in which the positions of Russia and the U.S. diverge.
Following this meeting, Tillerson held talks with Russian President Vladimir Putin in Kremlin.
At a joint news conference after a meeting with Putin, the two sides summed up the results of the talks in Moscow.
"The talks turned out to be thorough, frank, covering the whole range of issues that are key for our bilateral relations, for interaction on international affairs," Lavrov said at a news conference.
"We reaffirmed our common commitment to an uncompromising fight against international terrorism," he said, noting that several times the leaders of Russia and the United States discussed the topic on the phone.
The history has proved, when Moscow and Washington cooperate, not only our nations win, but the whole world, according to Russian Minister.
Tillerson stated that relations between Moscow and Washington are "at a low point" and marked by serious distrust. He noted that the sides agreed that there should be more high-level communication between U.S. and Russia, both at the diplomatic and military level.
Lavrov said that Moscow and Washington will appoint special representatives to uncover "irritants in relations" without emotions.
Moreover, Moscow and Washington have agreed on the need for the United Nations to investigate the use of chemical weapons in Syria.
Lavrov also expressed Russia's view that there is no need for a U.N. Security Council resolution on the attack until the U.N. chemical weapons watchdog has completed an objective probe.
Lavrov reaffirmed Russia's position once again that the Syrian government wasn't responsible for the attack on the town of Khan Sheikhoun in northern Syria. He also warned against an international effort to remove Syrian President Bashar Assad from power as it would profit the Islamic State group. Lavrov cited the Western experience in Iraq and Libya to argue that the ouster of autocratic rulers by external forces leads to chaos. He insisted that Russia wasn't holding on to Assad, but supports dialogue between various Syrian factions to determine the country's future and to preserve it as a united, secular state.
However, Tillerson stressed that Washington believes that Syrian President Bashar Assad and his family would not be able to participate in the future governance of Syria, but the departure of Assad should be "orderly." He added that enough evidence to bring war crime charges against Assad may be collected over time, but there was not enough proof at the moment.
Both sides agreed to continue consultations on Syria's future. The Russian foreign minister also expressed concern that Washington appeared to protect the terrorists of the Jabhat Fatah al Sham (formerly known as Nusra Front) group (outlawed in Russia) active in Syria, in order to try to overthrow Assad's government by force.
In connection to that, Putin said, as quoted by Lavrov, that Russia was ready to return to the suspended memorandum of understanding on preventing aerial incidents in Syria, if the United States confirmed that their goal there was to fight the terrorists of Daesh (banned in Russia), the Nusra Front and other terrorist groups.
Meanwhile, President Donald Trump stated that the U.S. is "not getting along with Russia at all" and relations between the two global powers are at an "all-time low." Trump said in a White House news conference that he's hopeful he can improve relations with Putin but "we're going to see what happens."
According to some experts, this meeting was used by two sides to reassert their firm stances on Syria rather than coming to a common compromise. There were only a handful of issues Tillerson and Lavrov said they broadly agreed on — that the Korean Peninsula should be denuclearized, that Syria should be "unified and stable" after the Islamic State is defeated, and that there should be more ­communication between U.S. and Russian diplomats and militaries. Russian experts also put a strong emphasis on Tillerson's meeting with Russian leader as they predicted that this meeting would happen only if Tillerson and Lavrov found some common ground. .