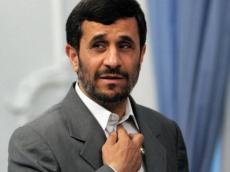 By Azernews
By Kamila Aliyeva
Ex-Iranian President Mahmoud Ahmadinejad, on April 12, submitted his name for registration as a candidate in Iran's presidential election, ISNA news agency reported. 
Ahmadinejad, who arrived in the morning in the building of the Interior Ministry in Tehran to accompany his former vice-president Hamid Baghaei during the registration process, made an unexpected move by registering himself as a participant in the upcoming presidential race.
Earlier, Iran's Supreme Leader Ayatollah Ali Khamenei advised Ahmadinejad to refrain from participating in the presidential elections.
Ahmadinejad previously served two four-year terms from 2005 to 2013. Under Iranian law, he became eligible to run again after four years out of office, but he remains a polarizing figure, even among fellow hard-liners.
Two of his former vice presidents have been jailed for corruption since he left office. Iran's economy suffered under heavy international sanctions during his administration because of Western suspicions that Tehran was secretly pursuing nuclear weapons. 
The two main rivals in the race are widely expected to be the incumbent, President Hassan Rouhani, and Ebrahim Raeesi, the chief custodian of Astan Quds Razavi.
President Rouhani has not officially announced his will to run for a second term. But, he is widely expected to do so, and the reformist camp in Iran has already picked him as its chosen candidate.
The registration process began on April 11 and will continue for five days.
The candidates are expected to be political and religious personages, who fulfill the fourfold criteria of being of Iranian origin, being a national of the Islamic Republic, being prudent and capable of taking on leadership duties, and being religious and believing in the Islamic Republic's principles and its official religion.
All hopefuls will be vetted by the Guardian Council, a body that oversees elections and legislation, from April 16 to April 20. 
The body may extend the vetting period for five days, April 21-25, looking into candidates' grievances. 
On April 26-27, the Interior Ministry will formally announce a final shortlist of candidates approved by the Guardian Council. 
On April 28, candidates start campaigning until 24 hours before May 19, the voting date for the 12th presidential and 5th city and council elections.