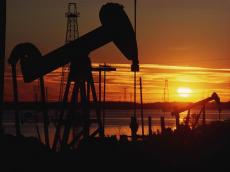 By  Trend
By Kamila Aliyeva
The U.S. Energy Information Administration (EIA) in its April 2017 short-term energy outlook revised the forecast for oil output in Kazakhstan in 2017 and 2018.
The forecast for 2017 was decreased to 1.87 million barrels per day as compared to 1.88 in the previous report published in March.
The forecast for 2018 rose to 1.91 million barrels per day as compared to 1.9 million barrels per day in March report.
Oil output in Kazakhstan totaled 1.7 million barrels per day in 2016, according to the EIA. Oil output in the country reached 1.86 million barrels per day in 1Q2017 and is expected at 1.86 million barrels per day in the second and third quarter and at 1.89 million barrels per day in the fourth quarter of the year.
In 2018 average quarterly output is expected to reach 1.91 million barrels per day, 1.88 million barrels per day, 1.91 million barrels per day, 1.95 million barrels per day correspondingly.
Kazakhstan's proven oil reserves stood at 30 billion barrels in early 2015, according to BP's Statistical Review of World Energy. Tengiz, Karachaganak and Kashagan are the largest oil fields in Kazakhstan.
Kazakhstan, an energy rich Central Asian country, plans to increase hydrocarbon production through the expansion of the Tengiz field and increasing output from the Kashagan oil and gas field. 
Recently Kazakh President Nursultan Nazarbayev ordered to increase the volumes of oil production and refining in the country. The President emphasized the need to actualize projects in the sphere of producing and processing of energy commodities.
Tengiz, one of the largest fields in the world, is being developed by the Tengizchevroil consortium. The project's license area includes the Tengiz field and the Korolevskoye field, which is smaller, but has significant reserves. Recoverable reserves of the Tengiz and Korolevskoye fields are estimated between 750 million to 1.1 billion tons of oil. The total explored reserves in the drilled and non-drilled sites at the Tengiz field's reservoir stand at 3.1 billion tons, or 26 billion barrels.
Karachaganak is also one of the world's largest fields. Its oil and condensate reserves stand at 1.2 billion tons, and gas reserves exceed 1.35 trillion cubic meters. Roughly 45 percent of gas and 16 percent of oil produced in Kazakhstan are being extracted from this field.
Kashagan is a large oil and gas field in Kazakhstan, located in the north of the Caspian Sea. The geological reserves of Kashagan are estimated at 4.8 billion metric tons of oil. The total oil reserves amount to 38 billion barrels; some 10 billion out of them are recoverable reserves. Its natural gas reserves are over one trillion cubic meters. In autumn 2016 Kazakhstan launched oil production at the Kashagan field.