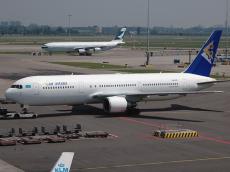 By  Trend
Construction of a new railway station and a new air terminal in Astana will be completed in May, Kazakhstan's Investment and Development Minister Zhenis Kasymbek told parliamentarians in a government meeting Apr. 10.
The minister noted that the new railway station will serve 35,000 passengers per day, the Kazakh Investment and Development Ministry said in a message Apr. 10.
Together with the old railway station, the figure will reach 48,800 passengers per day.
The project to construct a new air terminal and reconstruct the Astana airport's runway will be completed on May 15. The project also envisages construction of new parking areas, engineering infrastructure, and landscaping. The airport will be able to serve more than 7.5 million passengers per year after the reconstruction is completed.