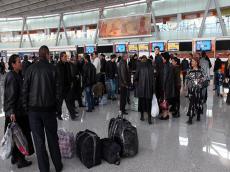 By Azernews
By Rashid Shirinov
The emigration rate in Armenia continues to reach alarming rates, thus leading the country to the demographic crisis.
The National Statistical Service of Armenia has published demographic indicators, which show that compared to 2015, some 54,031 citizens left Armenia permanently in 2016. The figure was 47,676 people in 2015.
After the April 2 parliamentary elections in Armenia, the Armenian Central Electoral Commission (CEC) "surprisingly' reported about increase in the number of voters, while the statistics show that the number of citizens leaving the country is increasing, which  raises suspicions over the reliability of the data by the CEC.
Another noteworthy fact is that during the pre-election period, the Armenian authorities announced about their economic successes and good economic indicators, whereas unprecedented number of people left the country in the first three months of 2017.
The outflow of people mainly means that opportunities to find a job in Armenia have decreased. Economic growth implies an increase in the number of jobs, and this suggests that fewer people should look for work abroad. However, even more people are leaving Armenia.
Worsening economic and political tension affect the life standards in Armenia. The youth mainly prefer the life abroad as they cannot find appropriate jobs in their homeland. The current volume of unemployment exceeds 18 percent of able-to-work population in Armenia, which is the highest indicator among the CIS.
Despite infusions of cash from Armenians living abroad, and huge loans attracted from financial institutions, nearly half of the country's 2.8 million people live in poverty, on less than $2 a day. The limited opportunities have contributed to an exodus of working-age Armenians since independence, with some estimates putting the population loss at nearly 30-40 percent.
Many people in this impoverished country lost hope that the future may have anything good in store for them.