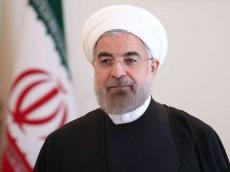 By Azernews
By Kamila Aliyeva
Iranian President Hassan Rouhani said the salary of the low-income working people ,as well as pensioners during his term in office has doubled.

Rouhani, who addressed a press conference for local and international journalists on April 10, said that the administration has succeeded to meet a part of its goals in terms of economy and politic situation in the country.

The pace of increase in salaries has been higher than inflation rate over the past four years, according to the president.

"In the meantime the income of farmers has increased compared to the times of former governments," he said.

Rouhani further spoke about the measures taken by his government concerning health and environmental issues.

He said that all the Iranians in the country have been covered by health insurance during his term in office.

The president described the government's work in the villages, including provision of natural gas for 9,000 villages, delivering fresh and healthy water to 5,200 villages, and connecting 25,000 villages to the Internet as an achievement and honor for the 11th government.
Rouhani noted that Iran needs to attract foreign investment and ensure security while speaking about the government's plans for improvement the country's economic situation.
Speaking about political atmosphere in the country he said that his government has provided the people with more freedom.


The president said that the situation in the country has improved following the implementation of the nuclear deal.

"We will never initiate breach of the Joint Comprehensive Plan of Action (JCPOA)," between Iran and the six world powers," he said. 
Iran, five permanent UN Security Council members, Germany and the European Union signed the JCPOA in July 2015 to ensure the peaceful nature of Iran's nuclear program. Then, the Islamic republic pledged to refrain from developing or acquiring nuclear weapons in exchange for the lifting of sanctions imposed against Iran.
He added that a plan has been drawn for improving the situation of domestic production and creating new job vacancies.

Speaking about the government's plan to improve the country's economic situation he said that the country needs to attract foreign investment and provide security.