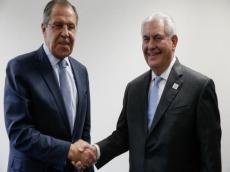 By  Trend
Russian Foreign Minister told his US counterpart Rex Tillerson in a phone conversation that the US attack on Syrian army's airfield plays into the hands of terrorists, the Russian Foreign Ministry said, Sputnik reported.
The Russian and US top diplomats discussed the US missile attack in Syria.
Only terrorists will benefit from the US strikes on the Syrian airbase, Lavrov told Tillerson.
"Sergei Lavrov emphasized that an attack on a country whose government is fighting against terrorism is only playing into extremists' hands and creating additional threats for regional and global security," the statement by the Russian ministry read.
Lavrov stressed that reports of use of chemical weapons by the Syrian government in Idlib are false. Lavrov added that it is necessary to conduct a throrough, impartial investigation into the Idlib chemical attack.
"It was noted that it is necessary to conduct a thorough and professional investigation into facts concerning all this situation [the Idlib chemical attack]."
Lavrov and Tillerson agreed to continue the discussion of the Syrian settlement during a personal meeting next week during US Secretary's of State visit to Moscow.
On Thursday night, the United States launched 59 Tomahawk cruise missiles at the Syrian military airfield in Ash Sha'irat, located about 40 kilometers (25 miles) from the city of Homs. US President Donald Trump said the attack was a response to the alleged chemical weapon use in Syria's Idlib on Tuesday, which Washington blames on the Syrian government.