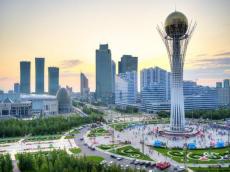 By Azernews
By Kamila Aliyeva
The Syrian armed opposition has put forward a number of conditions for its participation in the upcoming talks in Astana after the invitation was received, RIA Novosti reported citing the official statement.
The next round of high-level talks on Syria is scheduled to be held in the capital of Kazakhstan on March 14-15, 2017. The delegation of the revolutionary military forces of Syria, as the opposition calls itself, listed four conditions for its participation.
"The Syrian revolutionary forces delegation has received an invitation to take part in the third Astana meeting, but we are setting forth the following conditions for holding any round of talks," the statement reads.
The delegation wants the meeting to start after March 20 in order to assess the establishment of ceasefire regimes in the Al Waer and East Ghouta areas, the deadline for which has been set for March 20.
The delegation gave three further conditions for its participation, including a full ceasefire in opposition-controlled areas, an end to forced resettlement and a conclusion of ceasefire mechanism discussions.
Two rounds of high-level international talks on Syria were held on January 23-24 and February 15-16, while on February 6, a technical meeting of experts took place in Astana. The meetings resulted in an agreement on establishing a joint group on monitoring the Syrian ceasefire that laid groundwork for political discussions during the Geneva talks in accordance with the UN Security Council Resolution 2254.
Armed conflict continues in Syria since March 2011. Government troops are confronted by militants of different armed rebel groups. Russia has begun airstrikes on terrorist facilities in Syria since 30 September 2015. The Russian military involvement follows an official request from President Bashar Assad to President Vladimir Putin.
The UN has repeatedly tried and failed to end the Syrian conflict, which has killed 300,000 and displaced 11 million since it began five years ago.