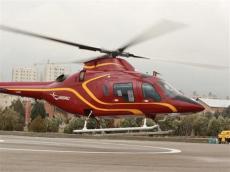 By  Trend
Iran has unveiled a new home-made lightweight helicopter during a ceremony attended by Sorena Sattari, vice-president for Science and Technology and Defense Minister Brigadier General Hossein Dehqan on March 7.

The eight-seat helicopter dubbed "Saba-248" was manufactured by Iran's defense ministry, the state-run IRINN TV reported.

Saba-248 is a twin-engine and multi-purpose helicopter which can be used for cargo and passenger transport and in rescue operations.

It can be employed for offshore missions and reconnaissance operations as well.

In 2012 Iran presented two domestically made helicopters dubbed "Panha 1" and "Panha 2."

Panha 1 is a medium-class helicopter model, capable of carrying 14 people, and is suitable for both military and non-military use. Panha 2 model is smaller, a light-weight class model, capable of carrying eight passengers.