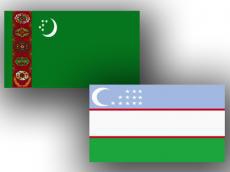 By Azernews
By Kamila Aliyeva
Turkmen President Gurbanguly Berdimuhamedov and his Uzbek counterpart Shavkat Mirziyoyev held talks in Ashgabat on March 6, after which a number of bilateral agreements were signed.
Berdimuhamedov, addressing the meeting, said that this visit is an important step for further consolidation and development of the Turkmen – Uzbek relations, which are based on friendship and good neighborhood ties and principles of beneficial partnership.
The Uzbek leader, in his turn, expressed a confidence that the current meeting would give new impulse to bilateral partnership, which has considerable potential.
The two sides discussed a broad spectrum of issues related to current condition and prospects of the Turkmen – Uzbek cooperation, priorities of social and economic development of Turkmenistan and Uzbekistan and future plans.
Having spoken for consolidation of cooperation in trade and economic spheres, Presidents Gurbanguly Berdimuhamedov and Shavkat Mirziyoyev noted the importance of stimulation of fruitful humanitarian and cultural contacts.
After the presidents' limited format meeting, high-level talks continued in an extended format - with the participation of the official delegations of the two countries.
Energy and transport spheres were identified among the strategic directions of the partnership. The sides spoke in favor of strengthening economic and trade relations, increasing the volume of mutual trade turnover, and developing partnership between the business communities.
The two countries also discussed issues of cooperation in the tourism, humanitarian, science and sports spheres.
Later, Berdimuhamedov and Mirziyoyev issued a joint statement and signed an agreement on strategic cooperation between Turkmenistan and Uzbekistan.
In the presence of the Presidents of the two countries, an agreement on economic cooperation for 2018-2020 years, a memorandum on further development of cooperation in the field of rail transport, inter-governmental co-operation program in the cultural and humanitarian sphere for 2017-2019 years, the program of cooperation between the Ministries of Foreign Affairs of Turkmenistan and the Republic of Uzbekistan in the 2017-2018 years were signed.
The agreements on cooperation in trade-economic and cultural-humanitarian cooperation between the regions, Dashoguz province and Khorezm region, as well as the Lebap region and the Bukhara region, were also signed.
The Ministries of Railway Transport, Agriculture and Water Resources of Turkmenistan, and Turkmenhimiya State Concern signed documents and contracts with Uzbek enterprises and organizations.