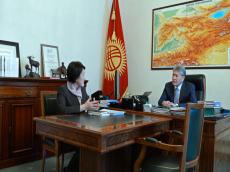 By Azernews
By Kamila Aliyeva
Kyrgyzstan will hold next presidential election on the third Sunday of this November, that is, on November 19, KyrTag reported with reference to the press service of the President.
The date was revealed in an announcement of a meeting between Kyrgyz President Almazbek Atambayev, whose term is due to end this fall, and Central Election Commission Chief Nurjan Shaildabekova on February 15.
"The head of state noted the special importance of electing a new president of the country, which in accordance with constitutional law will be held on the third Sunday of November, that is November 19 of this year," the press service said.
Atambayev further instructed the CEC chairperson to ensure fair election of a new head of state.
"In the remaining nine months before the election, we should eliminate all shortcomings and omissions in the work and ensure fully open and fair elections of a new head of state," Atambayev was quoted as saying.
"Only fair and free vote can ensure the legitimacy of power and guarantee stability in the country," he added.
Kyrgyzstan is a parliamentary representative democratic republic, whereby the President is the head of state and the Prime Minister of Kyrgyzstan is the head of government. Executive power is exercised by the government. Legislative power is vested in both the government and parliament.
The President of Kyrgyzstan is elected using the two-round system. Under the 2010 constitution, the presidential term is six years, but re-election is barred.
The existing legislation stipulates that Kyrgyzstan's mixed presidential-parliamentary constitution cannot be altered until 2020. 
During the presidential elections in 2011, Atambayev won with more than 60 percent of votes. 
Atambayev, who is 60 years old, has repeatedly stated that he will not seek the role of a prime minister or any other national political office once his current presidential term ends in 2017.