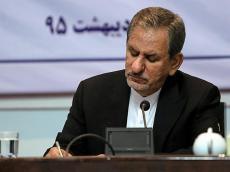 By  Trend
The Iranian government has sent a bill to the Parliament which asks for $1.5 billion from the National Development Fund to go as low-interest facilities into business development in rural areas, particularly near borders around the country.
The announcement was made by First Vice President Es'haq Jahangiri as he visited an exhibition on economic capabilities of rural areas held in the capital city of Tehran, Trend correspondent reported from the event January 4.
The exhibition is organized by the rural development department of the presidential office and has brought together hundreds of groups and businesses from rural areas around Iran. It kicked off on January 4 and will end January 7.
The rural and nomad representatives are showcasing a variety of features, ranging from agricultural products and handicraft to music, costume, and cuisine.
Development in rural and remote areas has found new significance in Iran as some neighboring countries are witnessing a growing number of young people in economically underdeveloped areas join drug gangs and terrorist groups.
Supreme Leader Ayatollah Ali Khamenei also recently ordered $500 million from the National Development Fund to go into developmental projects in the south-eastern border province of Sistan-Baluchestan.
Drug bands and terrorist groups frequently venture into the Iranian territory from Pakistan which has borders with Iran alongside Sistan-Baluchestan Province.