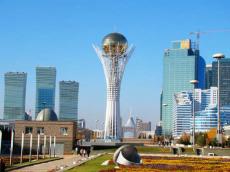 By Aynur Karimova
Kazakhstan, the largest economy in the Central Asian region, is keen on attracting foreign direct investment in various sectors of its national economy.
Recently, speaking at a Kazakh-Italian business forum in Milan, President Nursultan Nazarbayev said the country has decided to extend a unilateral visa-free regime for a year for citizens of Switzerland, Spain, Belgium, Hungary, Monaco, Singapore, Australia, Norway, Sweden and Finland, 10 countries actively investing in Kazakh economy.
This is not the first such step. Kazakhstan had introduced a unilateral visa-free regime for citizens of the U.S., the Netherlands, Britain, France, Germany, Italy, Malaysia, United Arab Emirates, Korea, and Japan starting July 15, 2014.
The creation of a favorable investment climate has been and remains one of the main priorities of Kazakhstan. The country primarily focuses on the countries whose representatives will not only make sound investments and bring effective management when entering the Kazakh market, but also introduce completely new technologies into production, which will make the country's industrial enterprises much more competitive.
Analyses show that Kazakhstan is on the list of top countries in terms of foreign direct investment, which amounted to $180 billion in 2013. According to estimates by experts and investors operating in the country, today Kazakhstan has created the best investment conditions in the Central Asian region.
The World Bank has recognized Kazakhstan as a country favorable for investment. It maintains a low international debt while its currency reserves exceed $100 billion.
Some 10 special economic zones operate in Kazakhstan. Entrepreneurs enjoy full support and tax preferences in these zones.
Investors in priority sectors (metallurgy, petrochemical, oil refining, engineering, construction materials, and food production sectors) are exempt from corporate income tax and land tax for a period of 10 years, and the property tax for eight years.
The stability of tax legislation is guaranteed for investors. The government provides investment subsidies up to 30 percent for construction and the procurement of equipment.
According to the Kazakh law "On Investments," investors are exempt from customs duties on the import of equipment, its components and spare parts, raw materials and supplies, as well as kind grants of not more than 30 percent of the total investment in fixed assets.
Kazakhstan is also focused on the creation of an open labor market. The country grants the right to employ a foreign labor force beyond the quota for a period of more than one year for construction contracts, reconstruction, or completion of a construction project.
Kazakhstan also continues institutional reforms aimed at improving the business climate. An international financial center will begin operating next year in Astana.
The country also offers legal regulation for investment issues based on English law, with the proceedings in English involving foreign judges.
The government also considers the exemption of foreign investors from the payment of corporate and individual income taxes for 10 years.
In Kazakhstan, foreign businessmen do not need to go to the state agencies for the relevant documents, since the Ministry of Investment and Development handles these claims.
Kazakhstan has also created an investment climate monitoring system. The Council of Foreign Investors, envisioned by the Kazakh president, addresses strategic issues, while the Council for Improvement of Investment Climate, created under the prime minister, is engaged in improvements on tax legislation and customs duties. Kazakhstan's investment ombudsman is focused on resolving investor problems.
Kazakhstan plans to transfer to the e-government platform to eliminate all contact between civil servants and investors. It will be possible to obtain all permits online thanks to the electronic document management system.