Azerbaijan's relations with the U.S. are at a proper level, but there are issues to which Washington should pay more attention, said Novruz Mammadov, head of foreign relations department of the Presidential Administration.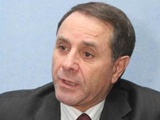 "I think that the U.S. authorities are aware of Azerbaijan's importance, and from this point of view, we can expect that during U.S. Secretary of State Hillary Clinton's visit to Azerbaijan, our cooperation will reach a new level of development," Mammadov said on July 1.
The recent processes around the Armenian-Azerbaijani Nagorno-Karabakh conflict settlement tell that it needs to take an important step, and therefore, Azerbaijan expects a lot from Mrs. Clinton's visit. According to Mammadov, special attention will be given to the Nagorno-Karabakh conflict during Secretary of State Clinton's visit and her meeting with Azerbaijani President Ilham Aliyev.
U.S. Secretary of State Hillary Clinton will visit Ukraine, Poland, Azerbaijan, Armenia and Georgia from 1 to 5 July.
/Trend/