Azerbaijan recognizes the territorial integrity of Georgia and the conflict should be settled on the basis of this very principle, said spokesman for Azerbaijani Foreign Ministry Khazar Ibrahim, commenting on the hostilities in the South Ossetian region of Georgia.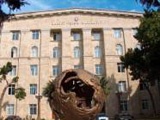 He said that in line with international law Georgia has a right to restore its territorial integrity and the UN charter is a proof of it.
"Georgia's actions comply with international law", said Ibrahim.
/Day.Az/