Azerbaijan agrees to participate in conferences, initiated by international organizations for MPs of Azerbaijan and Armenia.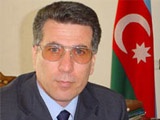 The due announcement was made by Milli Medjlis first vice speaker Ziyafet Askerov responding to the question regarding participation of Azerbaijani MPs in an international conference on Nagorno Garabagh conflict to be held in London in July.
"At the same time, we are against bilateral cooperation with Armenia, which is impossible until the Armenian-Azerbaijani conflict over Nagorno Garabagh is not settled", he noted.
According to the vice speaker, Azerbaijan wants the arrangements held and to be held by international organizations to be fruitful.
"We have taken part in a number of such events, but they are always fruitless. Moreover, we want international organizations to treat seriously the execution of resolution 14/16 on Nagorno Garabagh, adopted by the Council of Europe, and put pressure on Armenia in this issue", Z.Askerov noted.