We have already told that alterations to the Election Code must be adopted within a period, which would allow preparing the election commissions, the administration and voters to the changes.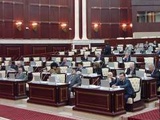 The due announcement was made by Sergey Kuznetsov, expert of the CoE Venice Commission on Azerbaijan, Day.Az reports.
He noted that voters should be aware of their rights and know to whom they may address in case of violations to protect the rights of voters.
"Considering the document  "List of recommended norms in conduction of elections", which is well known to everyone and which has already been translated into Azeri, we think that is would be expedient to adopt alterations to the Election Code at the spring session of Milli Medjlis", Kuznetsov said.
/Day.Az/