Two more U.S. congressmen have joined a Work group on Azerbaijan.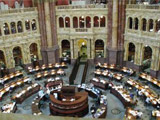 The embassy of Azerbaijan in the United States told APA that Tennessee Congressman Steve Cohen (Democrat) and North Carolina Congressman Howard Coble (Republican) have become members of the Work group on Azerbaijan, bringing the number of work group members to 34.
They are members of House Committees on Judiciary, and Transportation and Infrastructure.
/APA/
Related news:


One more congressman becomes member of Work Group on Azerbaijan at US Congress
\
Another US congressman joins work group on Azerbaijan