Lord Russel Johnston, chairman of the PACE subcommittee for Nagorno-Garabagh conflict, who arrived in Baku, held a number of meetings in the Parliament of Azerbaijan.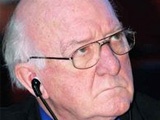 The press service for Milli Medjlis told Day.Az reporter that R.Johnston was received by Parliament speaker Oqtay Asadov.
The speaker informed the visitor about the history of Armenian-Azerbaijan conflict and noted that more than 1,000,000 Azerbaijanis, deported from Armenia in 1988 and suffering from ethnic cleansing in the result of occupation of a part of Azerbaijani lands, still live in hard conditions. The speaker noted that the young generation, which was brought up in the years of occupation, has another idea of the conflict resolution.
"Azerbaijani government does everything possible for the peaceful resolution of the conflict, yet it is not enough for establishment of peace. International organizations, especially the Council of Europe should change their position on this issue. It is a great pity that the decisions and resolutions have not been executed yet", he said.
The speaker reminded that the subcommittee, chaired by Johnston, is created for the execution of CoE resolution No 1416, adopted in 2005.
"Double standards applied towards this conflict, create Azerbaijan's concern and an aggressor and its victim should not be treated equally", the speaker said.
As is reported by the press service of the parliament, Johnston met with first vice speaker Ziyafet Askerov, as well as representatives of political parties in the parliament, including activists of the ruling party Yeni Azerbaijan, chairman of Ana Veten party azail Agamaly, chairman of Umid party Igbal Agazade, chairman of Great Creation party Fazil Gazanfaroglu, chairman of the Single Popular Front Party Gudrat Gasanguliyev, chairman of the party of Democratic Reforms Asim Mollazade and representative of the Party of Civil Solidarity Fazail Ibragimli.
It should be noted that Johnston's visit will last until February 9.
/Day.Az/