"I have nothing to do with politics, therefore I don't have any political opponents"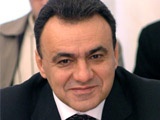 The due statement was made by Azerbaijan's Minister of Economic Development Heydar Babayev commenting on the information, recently published in the number of mass medias.
"I have prohibited to tell me about such information. We are the executors of the economic policy, carried out by President of Azerbaijan Ilham Aliyev.
This is a year of elections and I consider that political opponents of the working powers are getting nervous with country's achievements under Ilham Aliyev's leadership. I consider that such ideas are expressed by people, who do not want the stability in the country. But they will not be able to attain their goals", the Minister noted.
/Day.Az/