A press conference of president of International Olympic Committee Jacques Rogge, who paid one day visit to Baku, was held in the administrative building of the National Olympic Committee of Azerbaijan.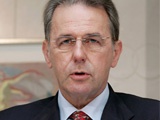 According to Day.Az, J.Roggue noted that the city has changed a lot since his last visit to Baku.
"I see that sport in Azerbaijan is rapidly developing", IOC president said. "This is my first visit to Azerbaijan as the President of the International Olympic Committee. I have friendly relations with your country. I am pleased to see that the Olympic movement in Azerbaijan is so widely spread.
I have met today with President of Azerbaijan and National Olympic Committee Ilham Aliyev. We discussed achievements of Azerbaijani sportsmen, Baku's appeal for hosting Olympic games of 2016 and many other issues. At the same time, it should be noted that we touched upon not only the issues of sport, but also the economy of your country, political situation and other matters".
/Day.Az/