Bilateral Azerbaijani-Turkmen talks on the definition of the Caspian status to last until February 10 started in Azerbaijan's Foreign Ministry, in Baku, Wednesday.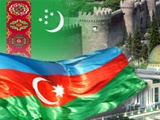 The due information has been provided by Novosti-Azerbaijan with reference to the press service for the embassy of Azerbaijan to Turkmenistan.
As is reported, the Turkmen delegation led by Khoshgeldy Babayev, special representative of Turkmen President for determination of the Caspian status and deputy Foreign Minister of Turkmenistan, has arrived in Baku for participation in the talks.
The delegation is composed of 5 representatives of the Turkmen Foreign Ministry.
The Azerbaijani delegation is led by Khalaf Khalafov, special representative of Azerbaijan's President for determination of the Caspian status and Deputy Foreign Minister.
The sides will mainly discuss the whereabouts of the medium line of the Caspian floor, which will divide the sea between the Caspian littoral states by the principle of national sectors.
The meeting will be held in private. Upon its completion, Azerbaijan's Foreign Ministry will make an official declaration on the talks.
It should be reminded that previous talks between the sides on determination of the medium line were held in Ashkhabad on November 20 of 2007. Before that the sides met in Baku on September 27-28.
The Kapaz field is a cause of the main dispute between the sides, as Turkmenistan considers Kapaz to belong to it and calls it Sardar. By seismological data the proposed oil and gas condensate reserves of the field make up 150,000,000 barrels.
Khalafov said the high level of bilateral relations between Azerbaijan and Turkmenistan brings hope for successful negotiations.
Azerbaijan, Russia and Kazakhstan do not have any claims towards each other in the issue of division of the Caspian floor.
The countries maintain both bilateral and trilateral agreements on the said issue.
The sides also came to a single opinion on the whereabouts of the medium line.
Turkmenistan and Iran still desist from determination of the medium line, therefore, the Caspian status has not yet been specified despite long-term discussions.