The Supreme Medjlis of the Party of Open Society has systematized a plan of Rasul Guliyev's return to Azerbaijan.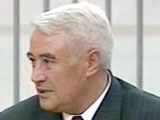 Yagub Abbasov, deputy chairman of the party, told Day.Az that the plan of Rasul Guliyev's return has already been worked out. It is now necessary to introduce it to the chairman of the party.
"We would like to introduce the plan on the following system to Rasul Guliyev. The leader of our party is expected to visit one of the European countries in the near future. When we are informed, where Rasul Guliyev is staying, we will send one of the party activists to meet him. The plan will be considered during the meeting.
I hope he will approve it. Last time when I spoke to Rasul Guliyev in the United States, he told me that he wants to return to his motherland very much. I think it is real and there is nothing extraordinary with his wish", Abbasov noted.
/Day.Az/