An ancient Armenian church, perched on a rocky island in a vast lake, has become a modern symbol of the divisions and fitful efforts at reconciliation between Turks and Armenians whose history of bloodshed drives their troubled relationship.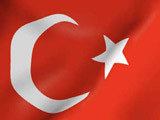 The Akdamar church, one of the most precious remnants of Armenian culture 1,000 years ago, deteriorated over the last century, a victim of neglect after Turks carried out mass killings of Armenians as the Ottoman Empire crumbled around the time of World War I. Rainwater seeped through the collapsed, conical dome, treasure-hunters dug up the basalt floor, and shepherds took potshots with rifles at the facade.
Next week, the church will showcase Turkey's tentative steps to improve ties with its ethnic Armenian minority, as well as neighboring Armenia. Turkey completed a US$1.5 million restoration of the sandstone building, and invited Armenian officials to a ceremony there on March 29 to mark what Turkey's prime minister, Recep Tayyip Erdogan, has called a "positive" message.
An Armenian deputy culture minister and other prominent Armenians plan to go. Armenia's foreign minister welcomed the restoration, but said Turkey mistakenly believed the project would prove that it was dedicated to better ties with its neighbor.
"A positive sign and a move on the part of Turkey ... would be the opening of the border with Armenia and establishment of diplomatic relations," the news agency Armenpress quoted Foreign Minister Vartan Oskanian as saying this week. He said the Armenian delegation could reach the church near the city of Van in eastern Turkey by land in a few hours if the border were open, but instead will have to fly to Istanbul, and then take another flight back toward the Armenian border.
Turkey closed its border with Armenia in 1993 during a war between Armenia and Azerbaijan, a Muslim ally of Ankara. The move hurt the economy of tiny, landlocked Armenia. Also, Turkey lobbied against a proposed resolution in the U.S. Congress that would recognize the killings of Armenians in the last century as genocide. Some of Turkey's 65,000 Armenian Orthdox Christians say they endure harassment in Turkey, whose population is overwhelmingly Muslim.
Hrant Dink, an ethnic Armenian journalist murdered in Istanbul in January, was apparently targeted by nationalists who detested his commentaries on minority rights and free expression.
Patriarch Mesrob II, the spiritual head of the Armenian Orthodox community in Turkey, has asked the government to mount a cross on top of the church, which used to have one, and to allow religious services to be held there on occasion.
The government has yet to respond, but placement of a cross could be sensitive for the Islamic-rooted government of Erdogan, who plans to attend the inauguration ceremony. The symbolism could upset some Muslims, and a parallel force, Turkey's secular establishment, led by the powerful military, might regard it as a concession to Armenia and the Armenian diaspora.
"It speaks well of the Turkish government that they paid for it and took the initiative to make it happen," said David Phillips, an advocate of Turkish-Armenian reconciliation who helped gather international restoration experts and architects for the church project. But he noted that Turkey views the site as a museum rather than a place of worship.
"It runs the risk of being viewed as an antiquity, instead of a living symbol of Armenian culture and spiritual life," said Phillips, executive director of The Elie Wiesel Foundation for Humanity, in New York City.
The European Union urged Turkey in 2004 to consider registering Akdamar in UNESCO's World Heritage List. The EU has also urged Turkey, a candidate for membership, to improve treatment of minorities.
Relief carvings on the outer walls of the Akdamar church depict Jesus Christ, barefoot and bearded, holding the book of Gospels; a sea creature devouring Jonah as he is tossed from a ship; Abraham grabbing his son Isaac's hair and holding a knife as he prepares to sacrifice him; David with a slingshot facing the giant warrior, Goliath; and Adam and Eve, holding the forbidden fruit.
"Akdamar is an extroverted church," said Zakarya Mildanoglu, an ethnic Armenian architect who helped restore it. "It doesn't hide its face."
Reliefs also show the church's builder, Armenian King Gagik I, in an ornate robe and crown, vines and grapes, eagles, bears, a peacock, cockerels, a man killing a lion, and a lion pouncing on a deer. Inside the church, deep blue frescoes show biblical scenes, though many have been destroyed and the walls have big, blank patches.
"Both the frescoes and relief sculpture appropriate Byzantine and Islamic visual traditions; the Abbasid caliphate was of course very strong by this time, and Byzantine art was understood as a visual language of prestige and power," Christina Maranci, an expert on medieval Armenian architecture at the University of Wisconsin in Milwaukee, wrote in an email. The church "presents a very interesting use of both," Maranci wrote.
Renovators replaced fallen roof stones to prevent more damage to the interior, restored the floor, strengthened walls and cleaned frescoes. The church still bears marks of ill treatment, with graffiti scratched next to some carvings.
Akdamar, called the Church of Surp Khach, or Holy Cross, was inaugurated in A.D. 921. Written records say the church was near a harbor and a palace on the island on Lake Van, but only the church survived.
Many local residents supported the renovation because it could generate tourism. Some Turks posted critical articles on the Internet. A leader of an extreme nationalist party said he welcomed the restoration as long as it is not interpreted as a political overture.
"We are not guilty of anything," said Mehmet Sandir, associate chairman of the Nationalist Movement Party. "Why should we be making gestures?" The Associated Press
/The International Herald Tribune/