U.S. officials will reassure the Turkish foreign minister, currently visiting Washington, that they will try to quash a proposed resolution in Congress condemning as genocide the early 20th century killings of Armenians.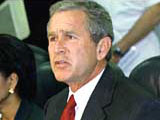 In talks with Foreign Minister Abdullah Gul, U.S. officials also will discuss Turkish worries that the United States is not doing enough to prevent Kurdish rebels from operating in Northern Iraq.
The meetings come at a tense moment for relations between the United States and Turkey, a moderate Muslim democracy and NATO ally crucial to U.S. operations in Iraq.
President George W. Bush's administration is alarmed that the suggested congressional resolution could disrupt efforts to repair strains stemming from perceptions in Ankara that regional instability caused by the U.S.-led war in Iraq have harmed Turkish interests.
The administration has opposed previous attempts by members of Congress to pass resolutions recognizing the 1915-1919 killings in Anatolia of up to 1.5 million Armenians as an organized genocide. A resolution introduced in the House of Representatives in January is thought to stand a much better chance of passing a floor vote.
State Department officials say the administration will work with members of Congress to head off the resolution.
"A congressional resolution would be a tremendous blow to our bilateral relationship," said U.S. Deputy Assistant Secretary of State Matthew J. Bryza. "We are working harder than usual."
Turkey has adamantly denied claims by scholars that its predecessor state, the Ottoman government, caused the Armenian deaths in a genocide. The Turkish government has said the toll is wildly inflated, and Armenians were killed or displaced in civil unrest during the disarray surrounding the empire's collapse.
In meetings with U.S. Secretary of State Condoleezza Rice and National Security Adviser Stephen Hadley, Gul is expected to press the administration to block the resolution.
But Bush will have to persuade the new Democratic-controlled congress, which does not need presidential approval for such a resolution. Members behind the proposed bill have said they expect a push by the administration and lobbyists working for the Turkish government to keep the resolution from a full vote by the House.
House Speaker Nancy Pelosi, who will decide whether to offer the bill for a full vote if, as expected, it is approved by the House Foreign Affairs Committee, has expressed support.
Gul also is likely to discuss with U.S. officials the question of Kurdish rebels from Turkey using Iraq as a springboard for attacks on Turkish territory. Turkey has been unhappy with the level of cooperation in rooting out militants from the Kurdistan Workers Party, or PKK, holed up in the Kurdish region of northern Iraq.
Ret. Gen. Joseph Ralston, a former NATO supreme allied commander, has been coordinating U.S. efforts for countering the PKK.
"General Ralston is working to decrease those tensions on both sides of the border between the Iraqis and the Turkish," State Department spokesman Sean McCormack told reporters Monday.
"We are engaging in diplomacy so that you don't end up with an armed confrontation in northern Iraq. I don't think anybody really wants to see that." The Associated Press
/The International Herald Tribune/