Leader of the Imedi opposition political association Irina Sarishvili, detained on Monday evening by officers of the Georgian Interior Ministry for "the import of great quantities of undeclared gold and cash from Armenia into Georgia," was released last night. The release was preceded by hours-long interrogation, conducted at the Georgian Sadakhlo passage point (Georgian-Armenian border).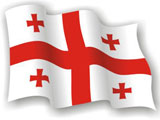 Sarishvili told reporters on Tuesday that "the investigation has no claims to her any more." According to the opposition leader, she "has nothing to do" with 300 grams of gold, found in the car in which she arrived from Armenia to Georgia. Two persons, accompanying her, were also released. The driver, the owner of the gold, is still in custody.
Sarishvili admitted that the great amount of undeclared money, found on her (Eds: 58,890 US dollars, 7,000 roubles and 8,000 Armenian drams) really belongs to her. "I'll pay a fine, provided for by laws, for the fact that I did not declare the cash," she said. Sarishvili noted that she "was questioned as a witness." Her lawyer said that Sarishvili was questioned "on the origin of the money and aims of her visit to Armenia."
Sarishvili, 44, had held the post of a Georgian vice-premier in 1993, but had resigned in protest against Georgia's accession to the Commonwealth of Independent States. Later, she was in opposition to President Eduard Shevardnadze. She was in radical opposition to the present authorities over the past three years.
She has been heading a charity fund of ex-head of the Georgian security service Igor Giorgadze (since 2005), wanted on charges of hatching a terror act against Shevardnadze in 1995. Itar-Tass