The brother of Georgia's late Prime Minister Zurab Zhvania on Monday demanded a new investigation into his death two years ago, dismissing the authorities' assertion that he died from carbon monoxide poisoning.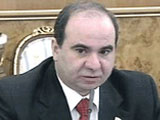 Prosecutors in April 2005 announced that FBI forensics tests had confirmed Zhvania's Feb. 3, 2005, death was caused by carbon monoxide, as an earlier Georgian investigation had concluded.
Authorities said an improperly ventilated gas heater was apparently at fault. Suspicions had lingered, however, that 41-year-old Zhvania was the victim of foul play.
His friend Raul Usupov, whose Tbilisi apartment he was visiting, also died.
"We are asking the country's leadership to carry out a new investigation with the participation of European experts," Zhvania's brother Giorgi told The Associated Press.
Yusupov's father, Yashar, said Sunday he believed the two men were assassinated. He told Rustavi-2 television he was certain that his son "died in another place and his body was brought to the apartment where he was found later."
Giorgi Zhvania claimed the FBI investigation had not detected a fatal carbon monoxide level in the bodies, and that there had been no trace of his brother's fingerprints in the apartment where the bodies were found.
Zhvania, along with President Mikhail Saakashvili, was a key leader in the weeks-long street protests known as the Rose Revolution, which toppled former President Eduard Shevardnadze and paved the way for Saakashvili's election in January 2004. The Associated Press
/The International Herald Tribune/