Foreign Affairs Minister of Azerbaijan Elmar Mammedyarov received Director General of Political Affairs of the Council of Europe Jean-Louis Laurens.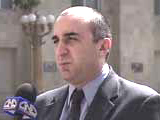 The guest expressed his satisfaction with the relations between the Council of Europe and Azerbaijan.
The minister stated that integration to Europe and Euro-Atlantic structures is one of priorities of the foreign policy of Azerbaijan.
He said the relations with CE are of great importance for Azerbaijan.
Touching upon the negotiations of the settlement of Nagorno Karabakh conflict, Elmar Mammedyarov gave detailed information about the results of Armenia's aggressive and ethnic cleansing policy and Armenian diaspora's non-constructive influence on the issue.
He pointed out that the conflict can be settled on the norms and principles of international law within the territorial integrity of Azerbaijan. APA