Foreign Minister Elmar Mammadyarov received the former UN Resident Coordinator and UNDP Resident Representatives Marco Borsotti and new appointed representative Bruno Pouezat.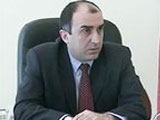 Borsotti stressed that Azerbaijan turned to a leader state and will develop as the result of implemented economic reforms.
In his turn FM Mammadyarov said that he attaches great importance to the cooperation with UNDP and stressed that they will continue this process in future too.
Minister stressed the development of non-oil sector of Azerbaijan serves to his interests and noted that important measures are taken to develop agriculture, transport, and information technologies.
At the end of the meeting Borsotti introduced new appointed UN Resident Coordinator Bruno Pouezat and said that new representative will try to implement broad business plan, FM press service told the APA.