President of Azerbaijan Ilham Aliyev and Prime Minister of France Dominique De Villepin met at Matignion Palace in Paris on January 30.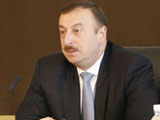 During the talks, they emphasized that the visit by Azerbaijan President to France will give impetus to development of bilateral relations and expansion of cooperation between the two countries.
An opinion was expressed that the Azerbaijan-France economic ties have good prospects in all fields, and in this context, the documents to be signed between the sides will play an important role in setting concrete priorities of bilateral cooperation.
President Ilham Aliyev and Prime Minister Dominique De Villepin discussed a number of other issues of mutual interest as well. AzerTAg