Around 1,500 opposition supporters rallied in the Azerbaijani capital Sunday to protest against recent sharp hikes in domestic utility rates.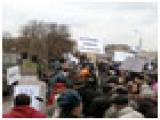 The participants, who gathered in a square in the east of Baku, held up banners with slogans "No to the Hikes!" and "Don't Make People Go Hungry!"
Authorities, which in the past have banned opposition rallies, authorized the two-hour protest. The leader of the Musavat opposition party, Isa Gambar, accused the government of diverting the energy-rich Caspian Sea nation's oil and gas revenues.
"If there wasn't corruption, bribery and theft in this country, there wouldn't be a need for these price increases," he said.
Early this year, the government sharply raised the domestic prices for gas at the pump, electricity, water and natural gas for industrial use. Electricity charges went up threefold, water 1.8 times and gas prices at the pump by 50 percent. The Associated Press
/The International Herald Tribune/