Broad board meeting on overall results of fight against delinquency, measures taken for ensuring public security was held in the Interior Ministry.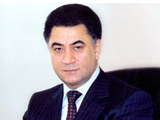 Making a speech in the meeting Interior Minister, Colonel-General Ramil Usubov spoke about the Interior Ministry's fight against delinquency and measures taken for ensuring public security.
He said that Azerbaijan is considered one of the stable and safe countries for the level of delinquency compared with CIS states and even developed European countries.
19.045 crimes were recorded in the country and 18,267 crimes were registered in IM. The number of grievous crimes, as well as of murder, efforts to murder, robbery, rape, kidnapping reduced.
The minister also noted that the general numbers of crimes increased by 5.9% compared with 2005, because the facts on roguishness, violation of traffic rules, beating and cases connected with drugs were revealed.
97.3% of the personal crimes and all the crimes connected with banditry and human trafficking were uncovered. Over 90% of the crimes committed in the republic last year were uncovered. 435 crimes committed in the previous years uncovered in 2006. 4429 men being searched, as well as 1784 accused hiding in CIS and other foreign states were arrested. The places of 1076 (73.6%) missing persons out of 1462 were determined. 268 gangs consisting of 772 were rendered harmless. 1346 weapons, 130 cartridges were confiscated. 211 criminal facts were revealed, 207 held accountable, 23 gangs were rendered harmless in the sphere of human trafficking.
Presidential administration's Department for Liaison with Law Enforcement Agencies of the President's Office chief Fuad Aleskerov highly appreciated the Interior Ministry's activity in the sphere of fight against delinquency, measures taken for ensuring public security. APA